What is Tracheal Collapse?
As dog owners, we know that certain breeds are prone to certain health issues. For instance, golden retrievers are more prone to hip dysplasia, french bulldogs are more prone to spine malformations, so on and so forth. Small dog breeds have their own set of health issues - tracheal collapse being one of them.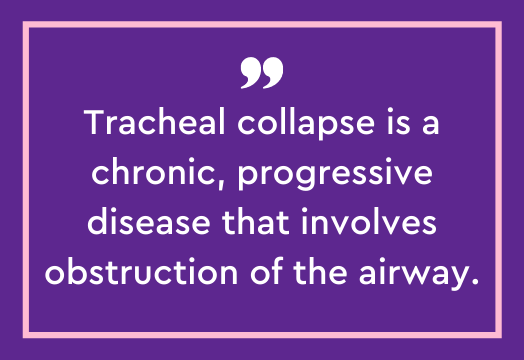 Well, what is tracheal collapse?
Tracheal collapse is a chronic, progressive disease that involves obstruction of the airway. The trachea - most commonly known as the windpipe - is a tube that is supported by "c" shaped cartilage. Tracheal collapse occurs when the cartilage ring weakens and begins to collapse, making the dog cough and/or have a difficult time breathing.
Causes
Tracheal collapse typically happens in one of three ways:
1. Congenital
Certain breeds (particularly small and toy breeds) are at a higher risk of tracheal collapse due to their size. Some of those breeds include Shih Tzus, Chihuahuas, Pugs, Malteses, and Toy Poodles.
2. Gradual
Physical or environmental stress over a period of time can weaken the trachea and reduce its structural integrity. 

These factors include excessive activity, excessive pulling on collars, and regular exposure to smoky environments.

A dog's old age (typically 5+ years) will also increase their risk.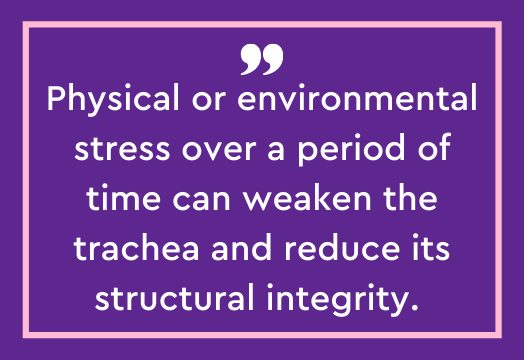 3. Sudden 
Traumatic injury to the dog's neck area will also increase the risk of tracheal collapse.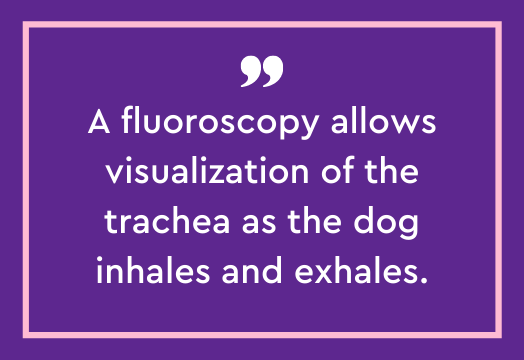 X-rays can sometimes detect obvious tracheal collapses cases, but not always. It is often better to get a fluoroscopy - which is a moving x-ray - because that allows visualization of the trachea as the dog inhales and exhales.
Sometimes that is necessary to confirm an accurate diagnosis. Other methods include endoscopy, which give a view of inside the trachea using a tiny camera.
X-rays of Tracheal Collapse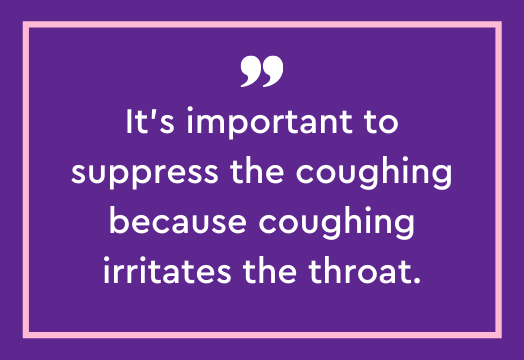 Most cases of tracheal collapse are treated with cough suppressants, bronchodilators, corticosteroids, and/or antibiotics. 
It's important to suppress the coughing because coughing irritates the throat, which then leads to more coughing.
If the dog is overweight, weight loss can also help the dog to breathe easier. Although treatment doesn't cure the disease, over 70% of dogs respond well to medical treatment of more than 12 months. 
As you treat the dog, it is also recommended that the dog is in a smoke-free environment and free from other environmental pollutants.
It is also incredibly important to avoid anything that is around the dog's neck as this can put pressure on the dog's trachea.
This is even more important for dogs with a collapsing trachea that also have a tendency to pull.
For those reasons, a choke-free harness should be considered - like Gooby's patented Comfort X series.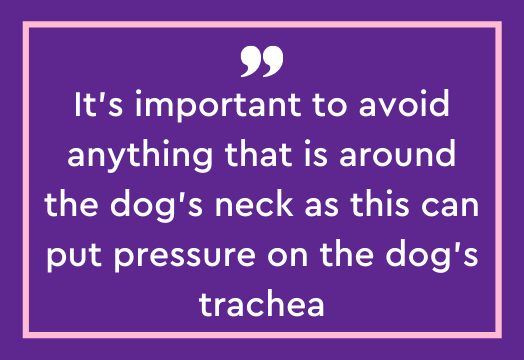 How can a Comfort X Harness Help?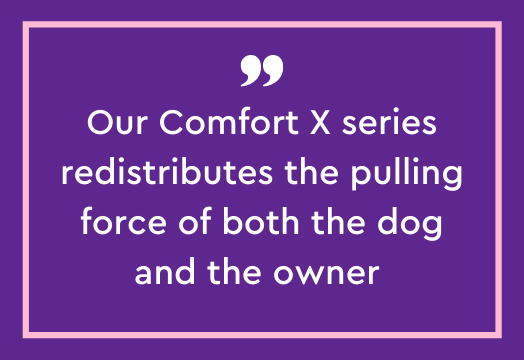 Avoiding the neck area is the key in mitigating tracheal issues. 
Our Comfort X series of harnesses does exactly this with an "x" design that redistributes the pulling force of both the dog and the owner.
This patented design allows the harness to be choke-free and gives owners peace-of-mind knowing their dog will continue to breathe easily.
Let's See It In Action from
Our Very Own Ambassador Human & Dogs
Tappin, S.W. (1996) Canine Tracheal Collapse. Journal of Small Animal Practice 5711
LaRosa, Abigail (2021) Tracheal Collapse: Medical Management Versus Implantable Stents. University of Missouri Veterinary Health Center. <http://vhc.missouri.edu/small-animal-hospital/small-animal-internal-medicine/minimally-invasive-interventional-procedures/tracheal-collapse-medical-management-versus-stents/>